Open Face Tan Helmet
This premium look inheriting beauty with a tan-finished body and neat stitching throughout the surface makes it one the most exclusive products from Royal Enfield. It weighs 950 grams which give its wearer a crown wearing feel with the ease of riding on his/her moving throne and it also is ISI and DOT certified. The inner lining is finished in tan-shade for the wearer's comfort and the outer shell is leather- finished for a classic premium look. This classic vintage helmet looks like a total blizzard that will blow out everyone in the crowd except the one wearing it with a black leather jacket and a black Royal Enfield. And this amazing thing just comes at a price of 6500 INR. BUY IT HERE: https://amzn.to/2PP8JD8
Royal Enfield Metamorph
This multiple shells consisting open face helmet is a marvelous creation of the Royal Enfield which grants its wearer complete protection due to its built quality and its built-to-last materials. It provides its wearer a hassle-free bike ride and gives a superior experience and its built material provides the owner with a break from its maintenance chore.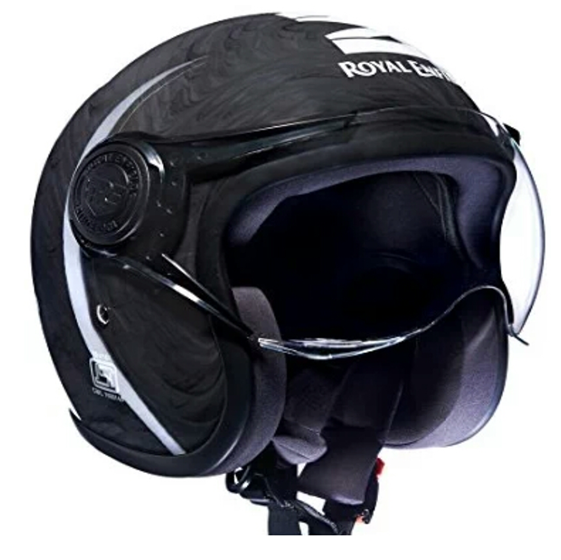 Its size is 58cm and it has a unique morphing marble pattern on it which is created by the fusion of black and white ABS. Every single stock of it has a different design which means that if someone bought it then he/she is free from the word 'jinx'. It has ISI(IS-4151) and dot (FMVSS no, 218) certificates. The quality materials by which it is made are fiberglass, carbon fiber, and ABS. It is of just 850 grams which is definitely not going to give its wearer a headache. It has an EPS internal liner which is made up of expanded polyester foam for comfort. It has a sturdy design and a stylish look which makes it picture perfect with any bike. And the price of this marvel is 2,900 INR. BUY IT HERE: https://www.amazon.in/Royal-Enfield-Metamorph-HEAW17004-.
Spirit Helmet
This one is of the same design as the open face helmet but it also has a full-face helmet feature, which is the full eye protection eye setup with a movable transparent visor. It's visor also offers UV protection. It also has both the ISI and DOT certificates which ensures that the wearer will definitely have a safe and superior experience while riding on a bike wearing this helmet. And this one comes at a consistent price of 2700 INR. BYT IT HERE: https://amzn.to/2PMpUFa.
HEA150002 Open Face Helmet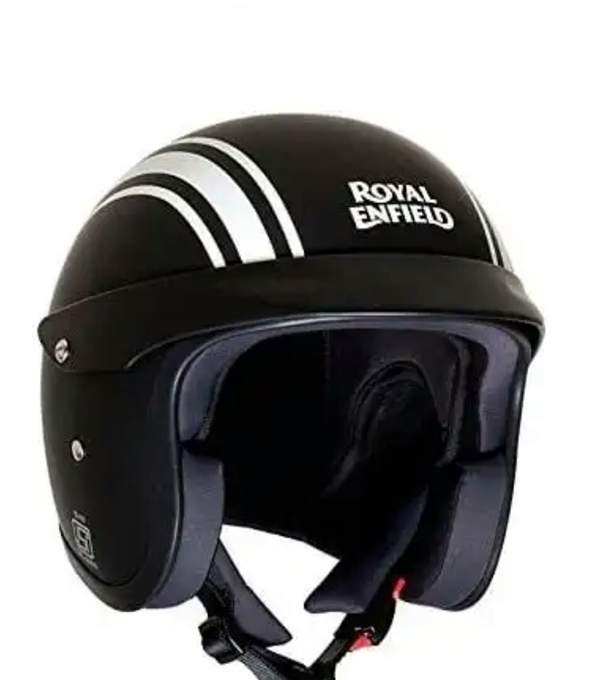 HEA15002's design is inspired by the cap-like extension that is seen on the headlight of the Royal Enfield motorcycles usually. In the comparison of other open face options, this one is also affordable and has the same level of protection as the others. It also has a variety of color options so that the consumer can have his/her most wanted color. BUY IT HERE: https://amzn.to/2A4VqcP.
Bobber Helmet Matt Black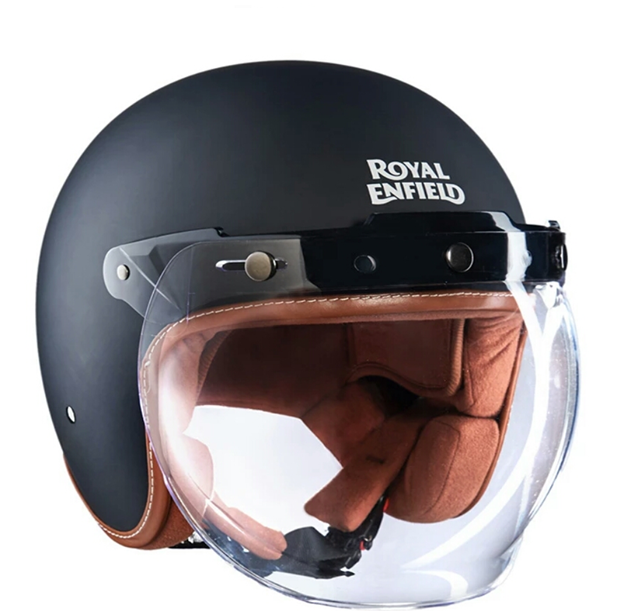 This polyester and knit mesh's comfort lined and single unit fiberglass shelled structure is beauty itself. Its inner safety liner is made from expanded polystyrene foam and there is a single stretched leather trim on the external of the shell. Its shell surface is hard coated and is treated with UV treatment for increased scratch resistance. This is a photo-perfect helmet with a comforting material fitted inside which makes its owner smile for spending money at the right thing. Though it is a bit heavy it does not make its wearer feel the weight due to its fitting material and it comes at a price of 2900 INR and it has both ISI and DOT certificates. BUY IT HERE: https://store.royalenfield.com/apps/fireamp/products/bobber-helmet-matt-black#