Days of standing in queues are gone. It used to took several hours to pay bills for electricity, water and other basic necessities. Thank God! we are past those days. Today everything is available at our fingertips then why not also paying the electricity bill. Great efforts have been put together by UHBVN Electricity Board which have made really easy for people of West Haryana to pay bills. You can easily check the electricity bill of Haryana and pay by your account number.
What is Uttar Haryana Bijli Vitran Nigam Limited (UHBVNL)?
Uttar Haryana BijliVitran Nigam Limited (UHBVNL) is a Government of Haryana undertaking that performs the task of Power Distribution and Retail Supply Business in North Haryana. Registered under theCompanies Act 1956, it started operating from July, 1999. UHBVNL operates in these jurisdictions – Panchkula, Ambala, Kurukhsetra, Kaithal, Yamunanagar, Kaithal, Karnal, Rohtak, Sonepat and Jhajjar. UHBVN provides power distribution services to approximately 24 lacs consumers belonging to various categories such as Domestic, Non – Domestic, Agricultural and Industrial and other consumers.
How to register your account at UHBVN?
Navigate to the website http://uhbvn.org.in/web/portal/pay-bill.
You will see a drop – down menu "My Account", click on it.
Then click on 'Register'. A two – step registration form will appear.
Fill in your Account Number, SBM Bill number or Bill number and click on Submit.
A page asking for other relevant details will appear, fill it up and you will be registered at UHBVN to avail their online services.
How to Login into your account at UHBVN?
If you have already registered on the portal, you can login to UHBVN by entering account number and password. To login go here: http://uhbvn.org.in/web/portal/auth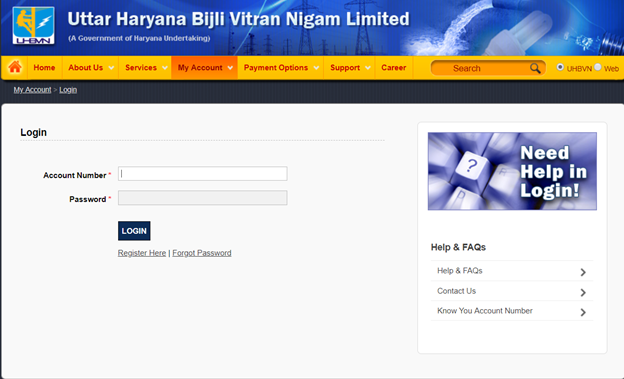 How to pay electricity bills online at UHBVN?
Uttar Haryana BijliVitran Nigam (UHBVN) provides the option of online bill payment. Users can make online bill payment through net banking i.e. by making credit/debit card payments. One can register on the UHBVN website and avail the online bill payment facility. E-payment facility saves a lot of time and efforts of consumers as they do not need to visit the cash collection centers anymore.
What payment options are available at UHBVN?
Online payments can be done at UHBVN via the following options
| Options | Payment Method |
| --- | --- |
| 1 | Credit Card |
| 2 | Debit card |
| 3 | NEFT |
| 4 | Mobile (App) |
| 5 | Paytm |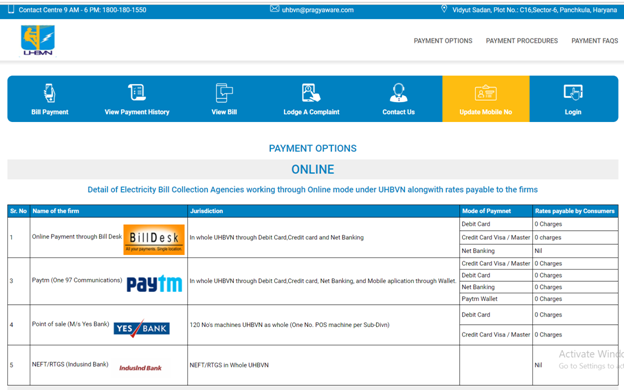 Bill Payment through Credit Card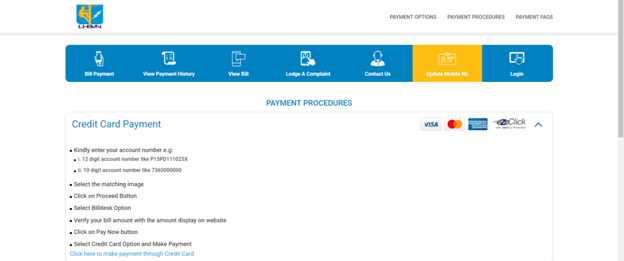 Bill Payment through Debit Card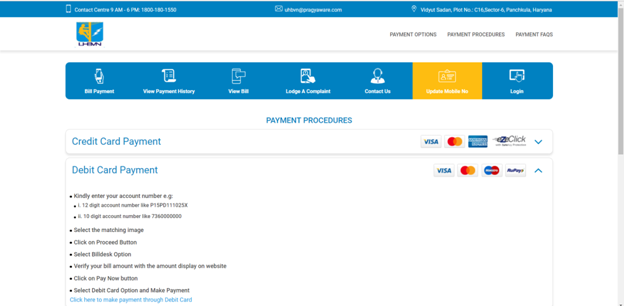 Bill Payment through NetBanking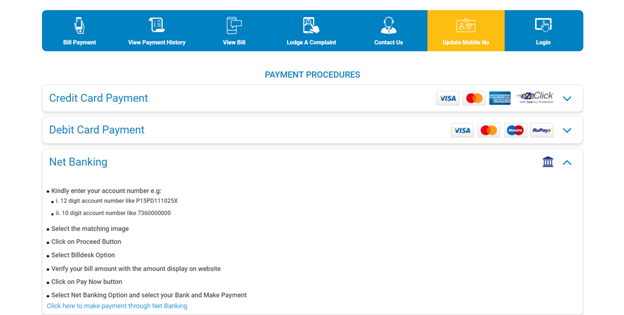 Bill Payment through NEFT/RTGS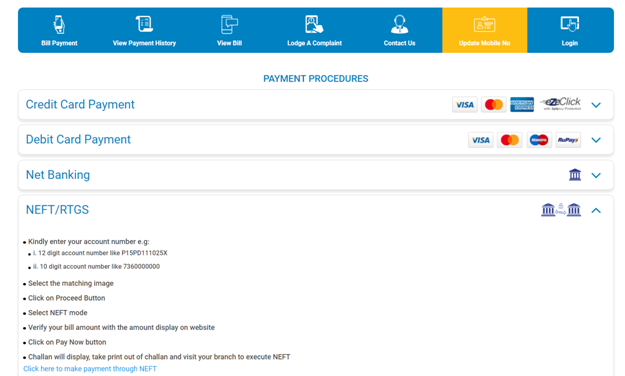 Bill Payment through UHBVN App –
Download UHBVN Electricity Bill Payment app through google play store on your Android handset and App store for handsets. You only need to complete a one-time registration process in which you have to put your details like
Name
Mobile Number
Email (Optional)
Aadhar Number
You will receive a one-time password (OTP) for registration Now you can access the app and make a payment, view bills, payment history, lodge complaint.
Bill Payment through Paytm app
Through paytm along with bill payment you can get cash back and various deals.
Login to your paytm account
At home page, you will see an icon for electricity, click on it.
Select the Electricity Board
Select State as Haryana from drop down menu
Select Board as UHBVN
Put your account number and mobile number
You can check offers from scrolling down
Proceed further
Enter Promo Code
Proceed to select your mode of payment and you are done!
It might take two days to show in your account payment history.
Try these methods and save your time and energy.
How to view/Download Bill History and transactions?
If you want to view the UHBVN bill payment history, you can enter your account number and past payments made would be shown to you. The bill payment history can be viewed by searching for any of the following:
Account No
Bank Reference ID
Reference ID
How to register UHBVN complaint online?
Users who have complaints for UHBVN can enter the details and register a complaint.
If you wish to track the complaints that are already registered, just enter the Account Number, Mobile Number, E – mail address, Reference ID.
In the Remarks column, customers can lodge their complaints after which they will be issued a complaint number and would be able to get the latest updates.
How to apply for new connection?
If the user wants to apply for new connection at UHBVN, fill up the form shown below.
Alternatively, one can also send email to newconnectionuhbvn@gmail.com if there is any problem with the old connection.
Users can also click on this page http://uhbvn.org.in/web/portal/online-services and then by clicking on the 'Apply Online Connections', they will reach the page given below.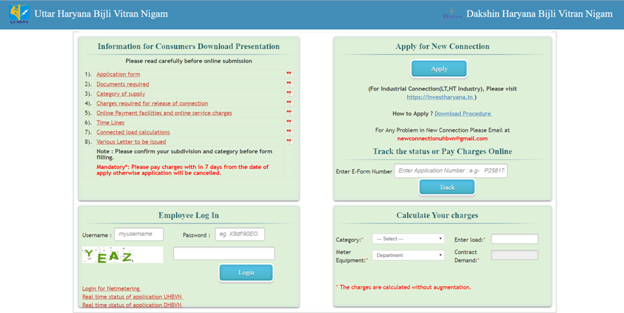 So, what are you waiting for? Register or login to http://epayment.uhbvn.org.in/paymentprocess.aspx to get more details about payment procedures.
How To Check your Account Type
Go to know your account section
We have 2 billing platforms – RAPDRP for Urban areas and NON-RAPDRP for rural areas
In case your account no. is 10-digit, for e.g. 1234567890 then you are billed from RAPDRP platform.
If your account number and ledger code are 4-digit and your sub-division code is three characters you are billed from NON-RAPDRP platform