PACL SEBI Refund Last Date Details:
| | |
| --- | --- |
| SEBI PACL Website | www.sebipaclrefund.co.in |
| SEBI Helpline Number | 022 61216966 |
| SEBI Support Email | sebi@sebi.gov.in |
| Format of PACL Refund Documents | pdf, jpg or jpeg |
| Who Can Apply PACL Refund | Policy Holder, Guardian, Nominee |
| Last Date of SEBI PACL Refund | 31st July 2019 |
R.M. Lodha Committee is that committee which was formed by SEBI to look into the matter of Subrata Bhattacharya vs SEBI and in other related matters following the directions of the Hon'ble Supreme Court of India. The Lodha Committee was appointed the Chairmanship of the former Chief Justice of India, Hon'ble Justice R.M. Lodha. The Committee announced to sell and dispose off all the properties of PACL to begin with the refunds process. As promised, SEBI India has refunded more than 1 lakh investors whose claiming amount was upto Rs. 2500 and now SEBI has invited claim applications from claimants who invested more than Rs. 2500 in PACL properties.
SEBI has released all the details regarding the PACL properties seized. Around 29,000 such properties, 13,863 additional properties have been seized and sale proceeds are underway. This clearly implies SEBI now has that much amount to pay back refunds to all the investors. In this matter, the second round of refunds has begun and claimants can file their refund claims till April 30th, 2019. Some people believe that this is clearly being done to win some votes as Lok Sabha elections are due in the month of May. That might be the case, but right now we should only focus on the ongoing refunds process so that not even a single update on PACL refunds is missed.
How to apply SEBI PACL for refund claim application online?
PACL refund claimants with total invested amount upto Rs. 2500 were refunded, hence concluding the first round of refunds and now claim applications are invited by SEBI India from investors with claiming amount of more than Rs.2500.
Investors seeking refunds must send their claim applications to www.sebipaclrefund.co.in by uploading all the details and scanned copies of PACL policies.
The refund form applications must reach the panel by April 30, 2019.
A free demo video is available on the website of SEBI so that the PACL investors can see how to apply for PACL refund application form.
SEBI Website for refund
Login www.sebipaclrefund.co.in and enter your registration number of pacl policy with your registered mobile number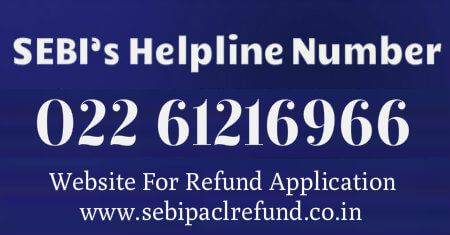 SEBI PACL Helpline Number
For further queries you can call toll to free number 02261216966, given by SEBI. If you have lost your mobile number or , if you have lost your pacl certificate you can call them.
Documents Required for online PACL refund application
| Sr No. | Documents Name |
| --- | --- |
| 1. | Name of the investor as per PACL Certificate |
| 2. | Amount claimed (in rupees) |
| 3. | Claimant's mobile number |
| 4. | PACL Scheme Payment Registration number |
| 5. | Scanned copy of PACL Certificate |
| 6. | Aadhaar/ PAN Number |
| 7. | Bank account number and IFSC code |
| 8. | Whether land has been allotted to the claimant |
| 9. | Scanned copy of PAN Card / Aadhaar Card |
| 10. | Bank Statement showing the last three transactions. |
PACL रिफंड फॉर्म ऑनलाइन कैसे आवेदन करें – हिंदी में पढ़े
Steps to Fill SEBI PACL Form Online
Lodha Committee is hereby informing all the PACL investors to file their claim applications at www.sebipaclrefund.co.in latest by April 30th, 2019.'The step by step procedure to submit claim applications is given below:
1. Claimants need to have these documents to submit their application – PACL Certificate or receipt, PAN Card, any cancelled cheque or Bank verification letter and a photograph.
Bank Verification Letter Download Here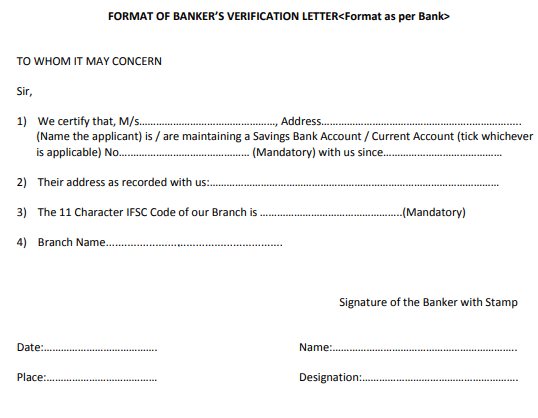 2. The claim application link mentioned above will take you the home page shown below. Click on the 'Registration' button present on the right hand side.
3. The Registration form will open up where you will have to fill in all the required fields such as 'PACL registration number', 'Captcha Code' and 'Mobile number'. Click on 'Generate OTP'.
4. Enter the OTP received on your registered mobile number. You can also re – generate an OTP if you entered a wrong one by mistake.
5. After entering OTP number, you will have to enter a password of your choice and then confirm it by re – entering it. Click on the tick box given against 'I agree with terms and conditions' and hit the 'Register' button.
6. On successful registration, you can now login to submit your claim.
7. The login page will appear asking for 'PACL registration number', 'Password' and 'Captcha Code'. Then, click on login.
8. After logging in, the following page will appear. Fill in your personal details, bank details, document details and PACL certificate and receipt details.
9. The Step 1 of login page with personal details looks like this. Click on 'Save & Next' button to move to the next step.
10. Step 2 in the login page with beneficiary bank account details looks like this. Click on 'Save & Next' to proceed further.
11. Step 3 includes the document details page where you need upload a scanned photograph, a copy of PAN card and a cancelled cheque or a banker's verification letter.
12. The last step of the login page will ask you to enter the PACL certificate and receipt details.
13. After entering all the required details, click on 'Preview & Submit' and you will see your detailed claim application form.
14. Check all your entered details in this preview page and if you wish to change any information click on cancel to edit the wrong information or else click on 'I agree' box and then hit the 'Final Submit' button.
15. When your claim application form is submitted, you will get the following confirmation message with an acknowledgement number. A SMS regarding the same will also be sent to your mobile.
16. Click on OK and the login page will appear. Enter you registration number, password and captcha code and press login button. You will see your Reference or Acknowledgement Number on the personal details page.
17. To clear out any doubts, please refer to the FAQ section available on SEBI's website before filing for a claim application.
sebi pacl refund login faq
Info source : www.pacllatestnews.com